VENUE
Four Seasons, Seoul
LOCATION
Seoul, South Korea
EVENT
Google DeepMind AI Challenge Match
Google DeepMind set us an incredible challenge to create a research-based event worthy of worldwide interest that would create a historical milestone in AI development and change the perception of AI behaviour and capability. The client also wanted to use the event to increase awareness of Go, a Chinese board game that has captivated players for over 2,500 years. A game of profound complexity with more possible positions existing than there are atoms in the universe.
Widely acknowledged as being a decade ahead of its rivals, Google DeepMind wanted to ensure this event was to be the focal point of the AlphaGo campaign, with live streaming of the event in place to achieve overall awareness and publicity of the potential of AI and to encourage more people to show an interest in Go and technology more broadly.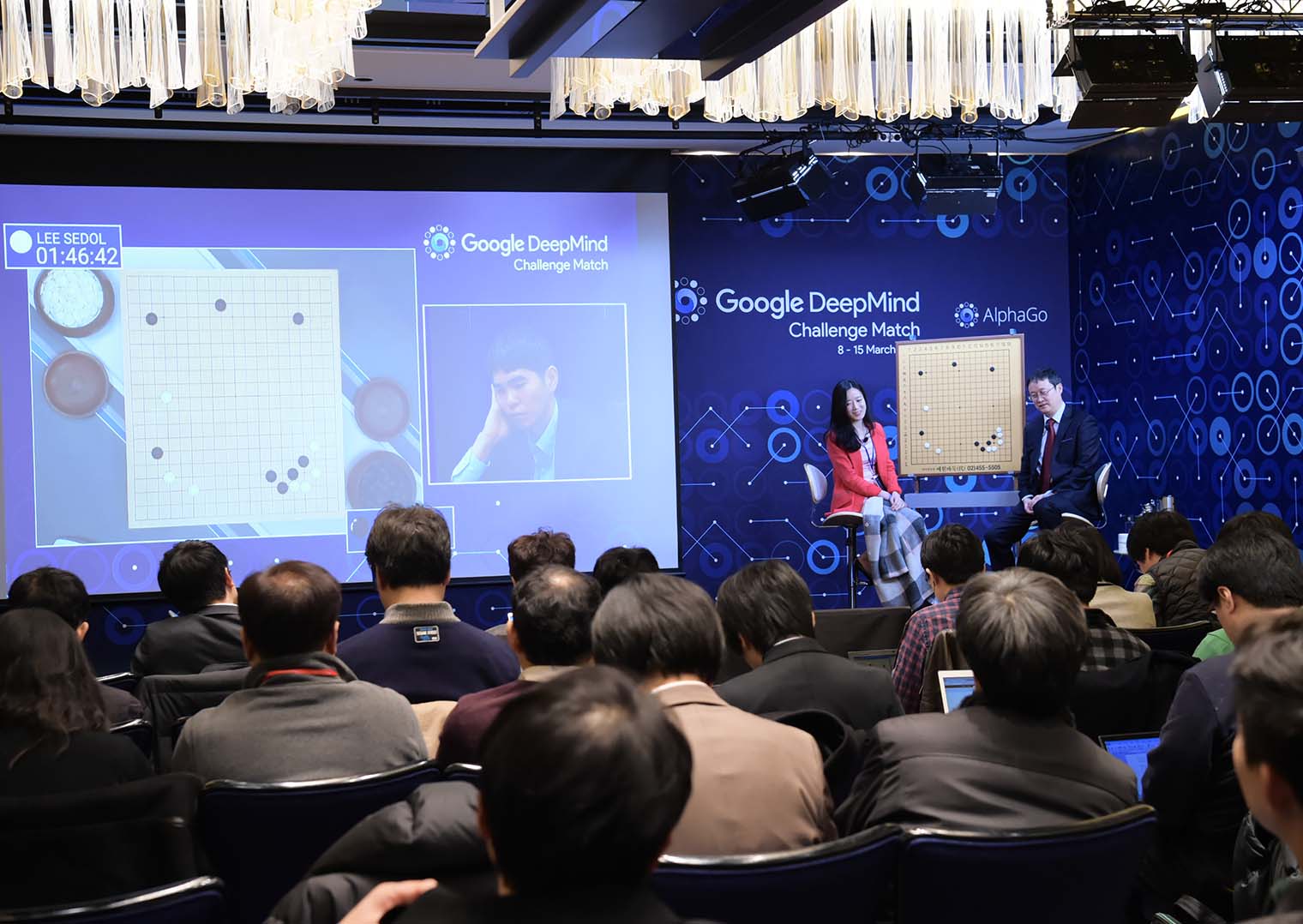 We were required to stream the match directly into two commentary rooms in real-time whilst then live broadcasting the match through YouTube in both English and Korean with a two-second delay to allow for any changes in play. The live stream was sent out in three separate feeds, one in English, one in Korean, and one with no commentary for Chinese viewers. This complicated process required the hiring of specialist operators, a TV producer, and extra technology that was all sourced in-country with the help of our South Korean counterparts.
Streaming the event was critical and as well as the cabling required for the video we also needed to install seven internet lines that were capable of handling the amount of data that would be required to handle all the information that would be shared. We had to use Google partners to achieve this and the tech teams were onsite six weeks in advance to ensure everything had been tested and tested and tested. To ensure we had no break in coverage we sourced three ISP's in-country that were verified by Google and also had 24-hour security on the server room so that no one could tamper with the setup.
Responsible for every element of staging the AlphaGo event, including managing communications in London, South Korea & the US. With other AI companies all looking to gain the lead in this field, and the match needing to coincide with the publication of their research, the lead time on delivering this event was just eight weeks.
We were required to find a venue in South Korea willing to allow us to use their facilities for a month's exclusive hire, while under a press embargo. After conducting site visits across Seoul we decided on the new Four Seasons Hotel. We also built a high calibre local team who understood our language and the client's desire to reinvest in the host country.
We designed and created the technical framework, including adding multiple internet lines (only possible with Google partners who held global agreements), hiring camera operators, and installing four miles of cabling for live streams. Ensuring the technical capabilities were in place to enable the live streams across YouTube was imperative to the main objective of this event; creating awareness of the Chinese board game, Go and sparking worldwide interest in the capabilities of AI.