LOCATION
London, United Kingdom
BETT is the leading education technology event in the UK and Capita's presence at the event has not only evolved over several years, but so has their brand and offering.
We have worked with Capita for the last 4 consecutive years on their exhibition stand at BETT, so we have had the pleasure of working with them as their brand have evolved and been able to evolve with them; not only on the design & build of their physical stand, but in regard to how they present themselves, their products and their brand to their audiences. The campaign around 'Education Exists To…' gave us an exciting opportunity to take a fresh and creative approach to their brief for the 2018 stand and how we could develop the overall creative vision into a tangible, inviting and evocative event space, whilst providing a platform to regenerate Capita's brand identity at the show.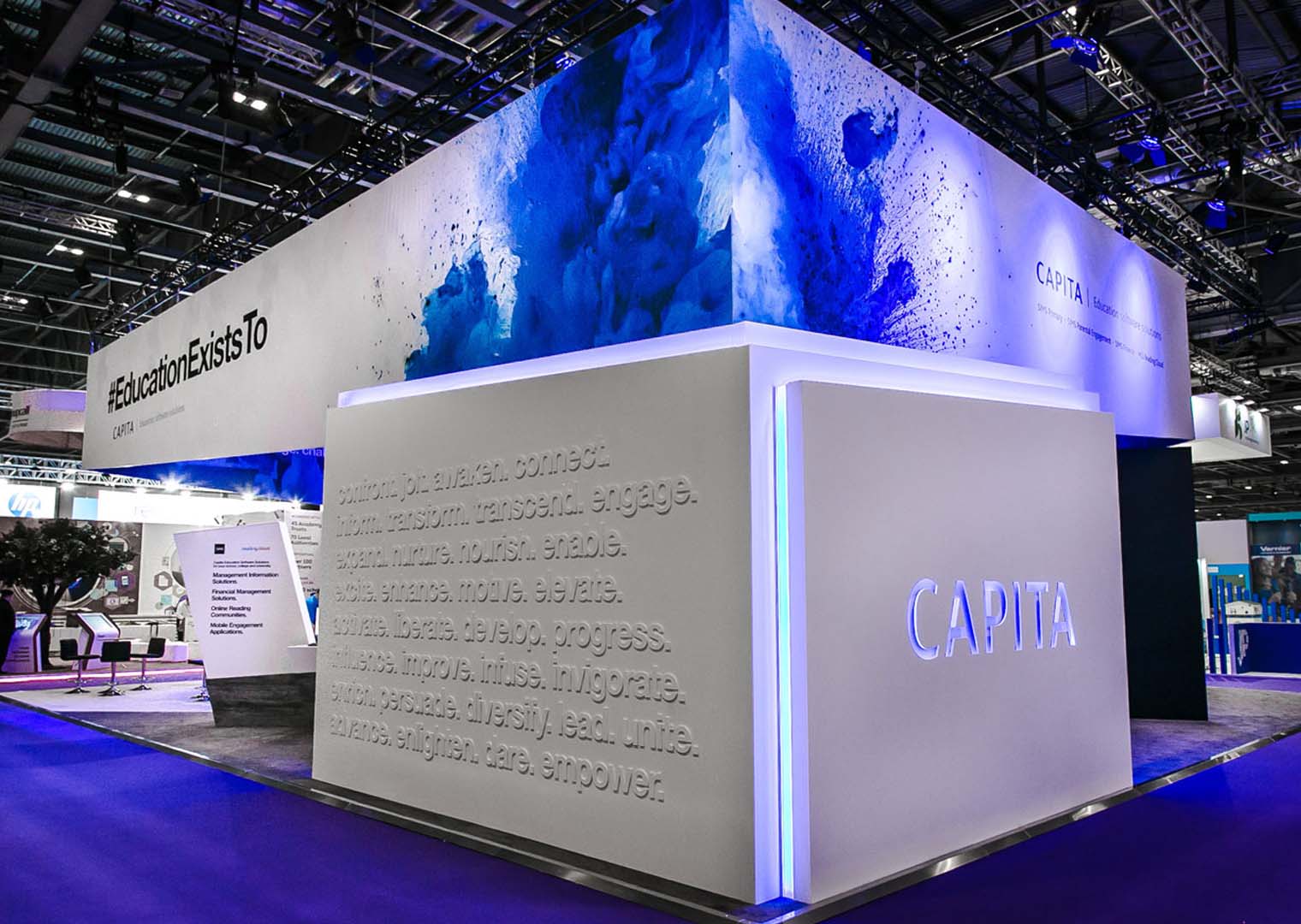 The end result needed to be a show stopper. The message needed to be clear – Education comes first, Capita helps to provide a platform for education to exist. We made an impact. The feedback from the client, and most importantly, their target audiences at the show, suggested that it was one of the most successful years yet for Capita at BETT.
"The In2Events team seamlessly managed all aspects of a complex project, adapted brilliantly to all challenges, and managed changes faultlessly. The outcome of the event was fantastic, and we've had really positive feedback, with high praise for both the venue, the event program, and the engaging delivery of content."

"I was at BETT yesterday and Wednesday. The stand is amazing! Easily the best one at BETT by a country mile. Well done and thanks for all your hard work."

"Thanks again so much for today! Not just for the fast turnaround, but because you and the team really delivered and were a joy to work with!"

"Most successful year yet, feedback from retailers was really positive. Thank you so much for all your hardwork and support on such a successful event."

"I wanted to say Thank you so much, to you and all of the team who supported on our first Virtual Partner Summit! We're still buzzing off the back of it, we've had such great audience feedback and couldn't have anticipated exceeding our target attendance rate as we did – It's definitely opened my mind to virtual solutions and what can be achieved, let's chat about how we make our 2021 Partner Summit a hybrid experience and really scale on the potential we've tapped into here."