VENUE
Illuminate at the Science Museum
LOCATION
London, United Kingdom
EVENT
Criteo Commerce Marketing Forum
This exciting partnership saw In2Events working with technology giant Criteo to create and deliver their annual, UK-based Commerce Marketing Forum. Kicking off a global series of events, it was essential for the UK forum to set the bar ahead of Criteo's headline event in the USA.
Our remit was clear, to produce a standout, engaging experience for 100 C-level executives, senior buyers, and influencers, with an impactful programme and valuable content that was reflective of the brands' world-leading position in commerce marketing.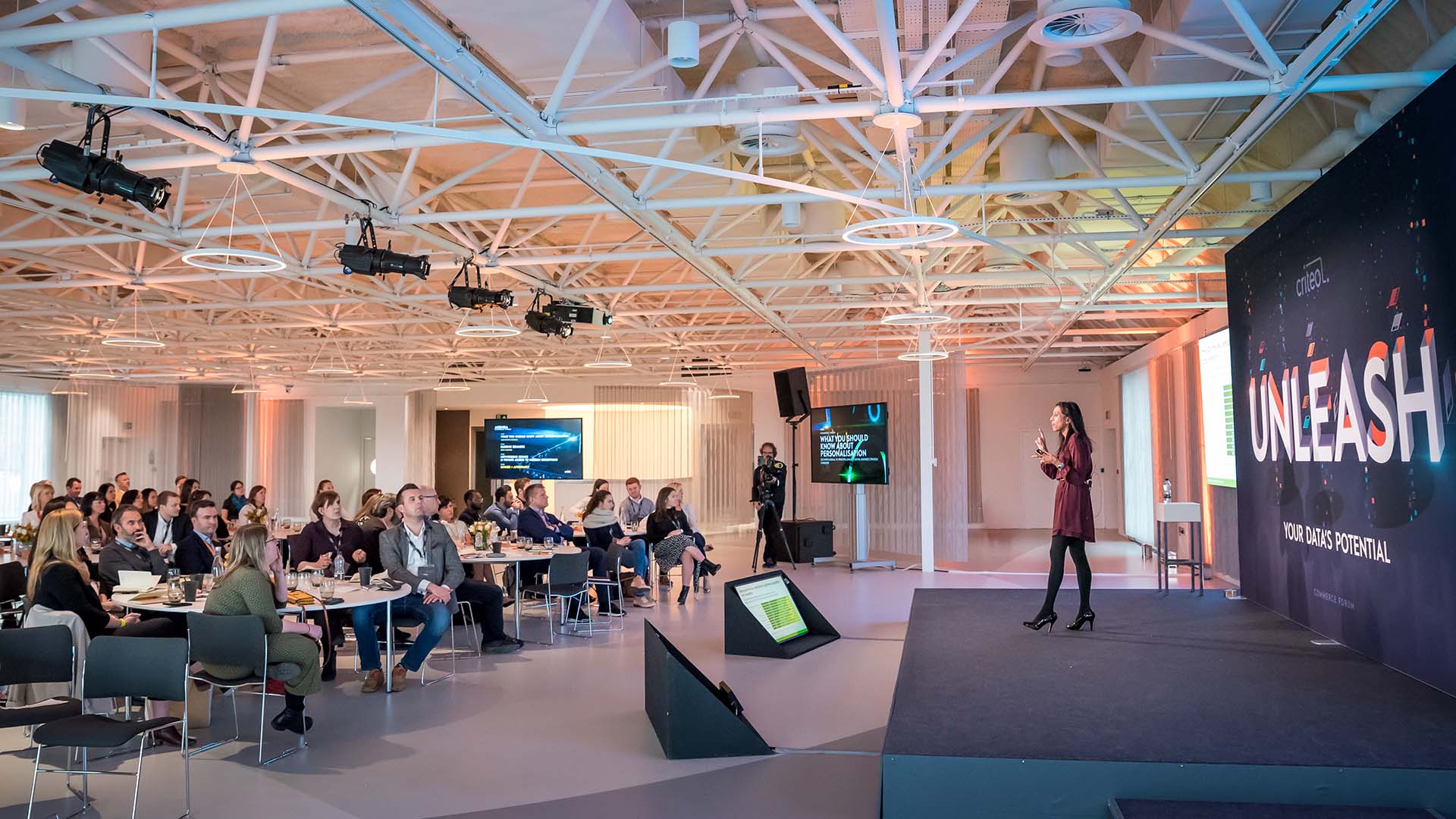 With AI, the evolution of technology and the 'unleash – new ideas' themes central to the event, we secured the newly opened Illuminate venue at the Science Museum, London. The venue allowed us to create the 'wow' factor and offered a space that aligned perfectly with the Criteo brand and their core event messaging. As one of the first events to be held in the new space, we were able to leverage the brands position as an industry-leader – leading the way in new spaces.
To maximise the impact of the forum, we designed a multifaceted programme that included a plenary component, think tanks and interactive panel sessions. Incorporating participatory sessions succeeded in engaging delegates in live topical conversations surrounding key content. This helped 'unleash' thoughts and ideas from across a spectrum of industries, which generated a buzz and an energised atmosphere throughout the day.
The experience of discovery was continued for delegates with exclusive after-hours access to the Science Museum's Sun Exhibition and the chance to board three flight simulations. These unique activities provided fun and interactive networking opportunities and led guests through to the museum's Flight Gallery, the location for the evening's gala dinner. This space and the connotations of the surroundings manifested the core concepts of the event: evolving ideas and making the impossible, possible. The 'night at the museum' style dinner, culminated the forum in an engaging and memorable way, and extended Criteo's one-to-one time with their key contacts in an unforgettable setting.
We worked consultatively with Criteo's Brand Governance and media team, ensuring that branding was compliant and that rich content for case studies, white papers and media content was captured throughout the live event. This enabled us to support our client in delivering further value and reach to audiences beyond the setting of the UK forum.
"The In2Events team seamlessly managed all aspects of a complex project, adapted brilliantly to all challenges, and managed changes faultlessly. The outcome of the event was fantastic, and we've had really positive feedback, with high praise for both the venue, the event program, and the engaging delivery of content."