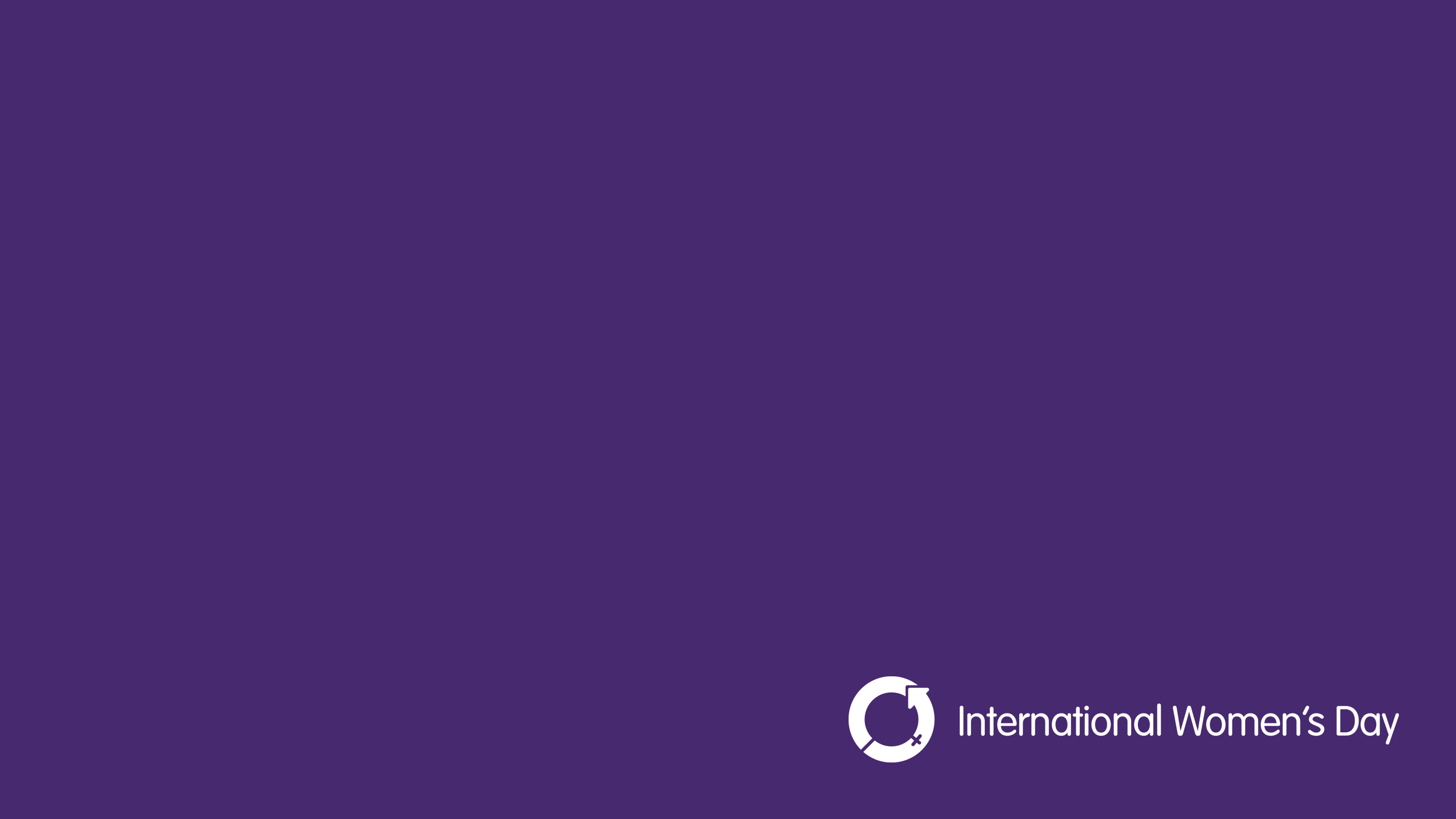 To The Women That Inspire Us
The 8th March 2021 marks International Women's Day 2021. To recognise a day dedicated to celebrating everything about women and their achievements and ambitions, we asked the team at In2 to share more about the women who have inspired, influenced, informed or had an impact on them in their lives. Here's what they had to say…
Darren Crook, Logistics Manager
My girlfriend inspires me every day. Her bravery moving so far from her hometown and family for university and then staying to set up a life with me is extremely humbling. Despite COVID restricting our ability to visit her family for an entire year, she has remained strong throughout with a positive 'it is what it is' mindset that rubs off. Best of all, after work, she actually listens when I tell her how many boxes I've sent in a day ????
Zoe Vinden, Senior Project Manager
The person who immediately comes to mind is my mum. If I turn out to be even half of the person she is, I know I'll have succeeded in life ????. No number of words I can say would do her justice – she has made me who I am today and enabled me to sculpt my future as I see fit. She is strong, kind, intelligent, moral, loving, gracious, determined, understanding, forgiving, hardworking, the best listener, smart, appreciative, down-to-earth, not afraid to get her hands dirty (literally – she runs a farm!), and is incredibly generous with her time and attention for everyone in her life who she loves and appreciates.
My mum inspires me to be the best version of myself – for myself. She has influenced me to make decisions based on gut instinct and what feels right – and this approach has always done me well, in general life and in my career. She has informed me through every step of life, about the good, the bad, and the ugly, but also let me make my own choices, mistakes, and learn my own lessons when needed. I didn't always see eye-to-eye with my mum; anyone who knows me knows that my teenage self was not someone to be argued with, but having been through that, I have come out of the other side with an appreciation that knows no bounds. I can honestly say that if I ever aimed to be like someone in my life, it's my mum. I feel so incredibly fortunate to have been raised and loved by such a powerful and awe-inspiring woman.
Katherine West, Sales and Venues Manager
The most influential and inspirational female for me has to be Alex Polizzi, better known as the 'Hotel Inspector' from the TV series of the same name.
Being venue and hotel obsessed myself, I have of course seen Alex's TV series… As a renowned hotel expert, from a long line of hoteliers (the Forte Family), I was automatically drawn to her presence on the screen and her approach to helping and rescuing failing hotels from going under.
Back in 2017, I attended Confex and Alex was their keynote speaker, delivering a fascinating talk about her experience working and advising in the hotelier and hospitality industry. Afterward, I managed to speak to her, and we had a great, in-depth chat about our mutual passion and love for hotels. She took the time to listen and understand more about my venue sourcing role and was vibrant and confident, which I admired.
Alex is a strong inspiration and fuels my continuing enthusiasm for sourcing hotels, speaking to hoteliers, and working in partnership with them to secure key business.
Julie Jones, Senior Project Manager
Oh, it's so difficult to narrow it down to one woman. So, I'm going to name a few if that's okay ????…
First, one of my best friends, not only for the work she does and positive influence she provides in the lives of children who have social, emotional, and mental health difficulties but also in navigating challenging times in her personal life, showing immense strength and resilience in finding her independence as a single mother. She quite literally puts everyone ahead of herself all of the time, in all areas of her life, and always has a smile on her face…
Next, Fearne Cotton! I have loved and admired her and her work for a long time. She is amazing and a real ambassador of everything I believe to be truly important, using her voice and influence to such positive effect…
A woman who hugely inspired me at the start of my working life was Carol Bartz, who in 1996 as CEO of Autodesk blew me away as I watched her present on stage to thousands. This was my very first experience of working a live event at the impressionable age of 16. Seeing a woman owning the stage the way she did in front of a male-orientated auditorium was incredible and empowering.
My Nan, who fought for women's rights so ours would be counted… And my mum, for being my mum (although I know she is so much more than that!). I could never have appreciated what she did for me until I found myself trying my best to do as good a job as she did and continues to do…
Last but not least, each and every one of my colleagues (past and present) at In2 for what they provide as a supportive network of amazing women, as well as individually in their unique personalities, skills, outlooks, and authenticity. I have seen phenomenal strength in every single one of them, and they all inspire, influence, and inform me more than they will ever know.
Maddison Grant, Finance Manager
An influential woman that has become a big part of my life during lockdown: Aunt Bessie! ???? All jokes aside, you of course have the amazing women that will forever be in history such as Michelle Obama, Anne Frank, and Greta Thunberg. I'd however say that the women of In2Events have been my inspiration of late ❤
They have really pulled together to adapt and support each other so much during the past year. In a sector that is struggling, these ladies have really worked their socks off to continue delivering top-level service. I am really lucky and very grateful to have such a wonderful bunch of women working with me.
Charlotte Stuart, Project Manager
A woman that has really inspired, influenced and informed my life is my sister. I feel like an older sister is always going to be influential in your life, I've always looked up to her, but for me, she is also the definition of resilience. Quite a few years back she was involved in a collision with an articulated lorry on the motorway, and as a result, suffered whiplash amongst other knock-on effects. She began doing yoga classes to help with aches and pains, and eventually, she managed to actually turn the whole experience into something really positive and trained towards a Yoga Teaching qualification. Years on, she's a yoga teacher in Western Australia with a focus on 'Yoga for Trauma' to help others heal and manage their trauma through the practice of yoga.
Plus, she had a baby in December 2020 and is managing so well, considering she and her partner's family are all stuck in the UK due to COVID and travel restrictions.
Stephen Wallbridge, Account Manager
I am lucky to have a few women in my life that inspire me. However, during the current pandemic, my mum has inspired me the most. As a front-line worker managing a large team within the NHS, she has, during extremely stressful and often very sad times, continued to motivate all around her. I know I couldn't do what the doctors and nurses of our country do on a day-to-day basis and when I speak to my mum it puts a lot into perspective.
Becky Garnett, Senior Project Executive
A good friend has inspired and influenced me the most in life. We became friends when I was 15 and I looked up to her then, and 15 years later I look up to her now more than ever. From quitting smoking to running a marathon, she blows my mind with every challenge she takes on.
Diagnosed with kidney cancer in November 2018 which progressed to stage 4 in February 2019, her courage and determination both in life and work, mentally, physically, and emotionally astounds me constantly and I'm so proud to say I have a friend in this remarkable woman.
In October we took part in the Virtual London Marathon and have signed up to do it again this year, my friend raising nearly £3,000 for Macmillan Cancer Support. She is also an ambassador for the 5k Your Way: Move Against Cancer group in Lee-on-the-Solent; a community-based initiative to encourage those affected by cancer to take part in parkrun.
They say that people come into your life for a reason, and I truly believe this woman has shaped the adult I have become for the better. I have a lot of love and admiration for this lady.
Hollie Foster, Project Manager
Jo Malone is a business figure I find really inspiring. I recently listened to a podcast where Jo talked about her experiences, and how through hard work and determination, she transformed a small business start-up in her kitchen into a global brand. The way she turned her aspirations and dreams into reality is incredibly motivating and something I very much admire. As the founder of one of the UK's leading fragrance and cosmetics brands, Jo often speaks at events on entrepreneurship and women in business. Her background and story are incredibly empowering, and she is definitely a 'women in business' role model to me.
Stacey Close, Senior Account Manager
I'm not even sure where or how I came across Stephanie Sword-Williams, but I know exactly when – it was very recently, towards the end of 2020. I feel like it was a 'stumbling' moment via social media or something similar. However, the impact of her words and presence created far more than just a stumble; it brought me to a full-on stop. It was one of those moments that turned into several hours of watching her talks, reading her blogs, researching her 'why' – all of which completely resonated with me.
So, in the year 2020 and the corresponding challenges that came along with it, her concept was something I really needed to hear. It acted as a reminder to focus on everything I am capable of; that I need to celebrate my successes and achievements and continue to strive for my dreams. And even if this was only on a personal level and something that I continue to work on regularly, it definitely made a difference in what was an extremely testing and challenging year.
Stephanie is the founder of a platform & author of a book by the same name, 'F*ck Being Humble'. In her own words, Stephanie wrote:
"I launched F*ck Being Humble, a platform to change stigmas around self-promotion and help people be unapologetically proud of their achievements. After spending my first year of living in London regularly networking at events, I noticed there was a huge underrepresentation of female panellists, particularly under the age of 30 that I could really relate to. It baffled me because I was aware of so many talented females who are making waves in their industries but that seem to be going unnoticed just because they haven't spent 40 years in the industry…. I've identified that part of the reason we see this is because women don't always shout about how good they really are, or dare I say it, we don't blag it as much as we could."
Rather aptly, Stephanie was also named in the Forbes Under 30 Europe list, during 2020, in the Media and Marketing category, where they "highlight the young visionary leaders, brashly reinventing business and society"; the more you learn about Stephanie, it's hardly difficult to see why.
In celebration of International Women's Day, I would highly recommend, for any women (or anyone for that matter) out there looking to be inspired or simply reminded to focus, shout about and celebrate what you're capable of, why you're amazing, why you shouldn't give up faith if you're still job-hunting, why you do deserve that promotion, why 'imposter syndrome' can do one, why your skills are highly sought after, why you are good at what you do, and why you are totally worthy. Then go and have a read of Stephanie's stuff, maybe even buy her book (no, I'm not on commission!), and then go tell someone else why you're amazing!
We encourage everyone to celebrate the brilliant women in their lives today and every day. You don't have to be a self-made billionaire, a CEO, or a Nobel prize winner to be worthy of recognition; there are incredible women in every walk of life, and we should celebrate them all.